Best Hotels in Peshawar • Where to Stay in Pakistan's Oldest City
Peshawar is one of the most fascinating cities in Pakistan. Peshawar's recorded history dates back to at least 539 BCE, making it the oldest city in Pakistan and one of the oldest cities in South Asia.
Being that Peshawar is just a couple of hours' drive away from Islamabad, this ancient city is very accessible to travelers who just want to hit up the city for the weekend or on the journey deeper into KPK province.
The best hotels for foreign travelers in Peshawar tend to be on the pricer side. Because of this, I recommend spending 2-3 days in Peshawar tops – which is usually enough time to soak in the vibe of the city and to see the historical sites and beautiful mosques.
At a Glance: The Best Places to Stay in Peshawar
Hitting the "just right" mark, this is one of the top hotels in the city thanks to their reasonable prices and excellent services. A clear winner in the all-around category.
The hotel will cover all your basic needs and you might be pleasantly surprised at the level of comfort you can experience at this incredible price point.
The Pearl Continental offers everything you need for a luxury stay and you will struggle to find a more comfortable environment in Peshawar.
This hotel is perfectly located for all sights in the city, as well as the airport, but also offers a sophisticated environment for a great stay.
Honeymooners will love the privacy and spaciousness of the rooms at the Fort Continental. No to mention the great views!
Breakdown: The Best Hotels in Peshawar
Peshawar has many accommodation options, all close to the city center. But which one is right for you? Take a closer look at all that these hotels have to offer to ensure you choose the perfect place to stay.
$$ | no star rating | Close to the University | Wi-Fi | Restaurant
Shelton Accommodator is a lovely guesthouse centrally located in Peshawar. Rooms are very big with comfortable seating areas, too. Larger groups will enjoy the multiple bed configurations available that can accommodate up to for people comfortably. Rooms are all decorated with neat modern furniture that is clean and homey.
There is also a restaurant on-site that offers a continental breakfast and various lunch and dinner options. You can also book the large meeting room that comfortably seats 25 people and has a projector.
Staff are very experienced and cater to your every need. The sun terrace is a lovely spot to get some fresh air or enjoy your lunch from the restaurant. You can even try your hand at badminton with their equipment or send one of their cars to take a drive around the city. Added services like airport pickup and room service all add to this property's incredible value for money and high ratings.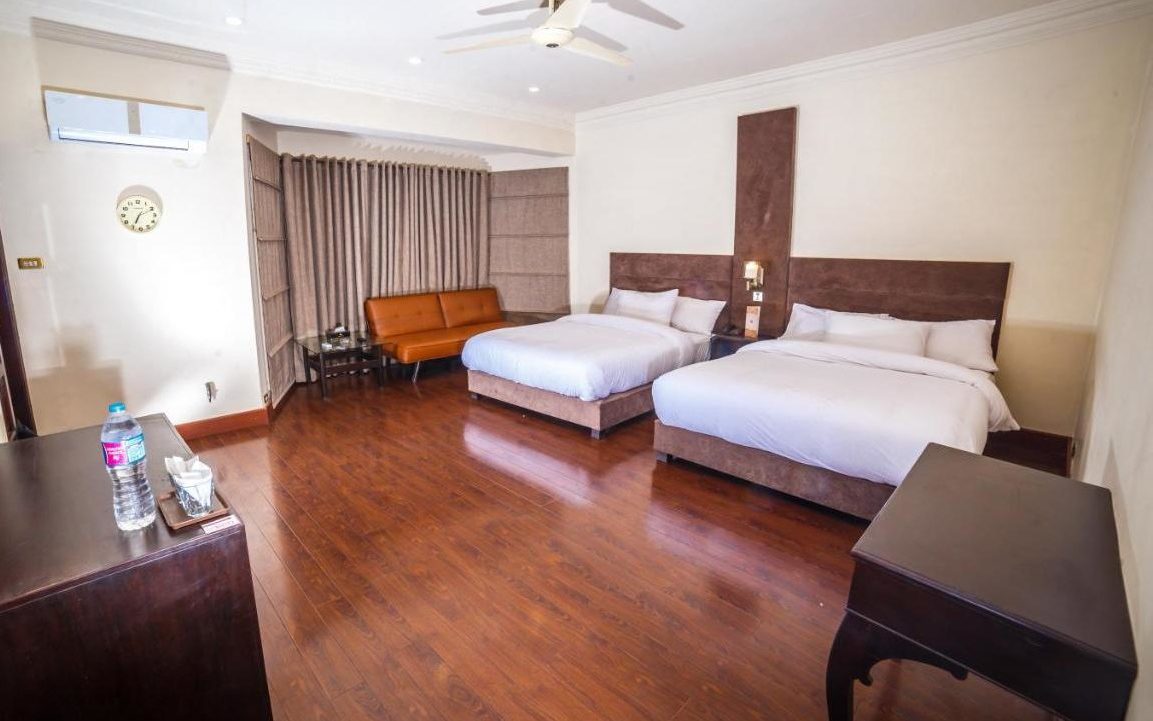 $$$ | 5-star | Close to Golf Club | Swimming Pool | 3 Restaurants
This is without a doubt the finest accommodation in Peshawar and offers a host of luxury amenities to make your stay unforgettable. The rooms are large with ample seating and even a desk for those needing to work. You can also enjoy a large flat-screen TV and good Wi-Fi in each room.
Relax poolside with a refreshing drink or ramp up the relaxation with a trip to the spa. If you prefer to get your blood pumping, head over to the fitness center or set up a game of table tennis.
Nothing adds extra luxury quite like 24-hour room service but at the Pearl Continental, you have the added choice of three on-site restaurants. Bukhara for great local cuisine, Tai-Pan for Chinese dishes, and Marco Polo with international food perfect for lunch or Sunday dining.
All these added extras along with sleek and elegant rooms make this the best luxury hotel in Peshawar by far.
$ | no star rating | Close to City Center | Terrace | Restaurant
This is a perfect stop for budget travelers who are staying over in the city for a night or two. Rooms are neat and tidy and feature multiple beds for up to three people. All rooms also have a TV but it is so centrally located you will probably spend most of your time exploring the city.
A continental breakfast is available for a little over $1.50 and can be enjoyed on the terrace. It is also only 5km from the airport, so perfect if you have early flights. There is no Wi-Fi available but they do have a 24-hour front desk and staff will assist you with most anything.
$$$ | 4-star | Close to City Center| City Views | Restaurant
Honeymooners will love the modern rooms at Fort Continental Hotel. The rooms are spacious and comfortable with tasteful décor. There is also a minibar in each room which is perfect to keep a bottle of bubbly in!
You can make use of the on-site fitness center to work off the buffet breakfast you will no doubt indulge in. This is one of the few hotels in the city with such great views which you can enjoy from your room or the terrace.
They also offer a free airport shuttle for added convenience and they also host weddings or functions in their banquet facility. There is even a bridal suite for hire but I suspect that would be of little use to honeymooners! Take note, they only allow married couples to share rooms, and proof of this is required.
$$ | no star rating | Close to the Highway | Terrace | Wi-Fi
This hotel has consistently received good reviews and is one of the few that do allow couples to stay together. Rooms are clean and feature comfortable white linens and seating. You will also enjoy the air conditioning for when the city heat gets a little too much in the summer.
It is a large hotel with 20 rooms and even conferencing facilities for up to 50 people. Rooms have fridges and desks and the interior is still new and very clean. The airport is located around four km from the hotel and you have easy access to all major roadways (and the beautiful northern areas.
$$ | 4-star | Close to the Hospital | On-site Restaurant | Banquet Hall
This is another of the hotels in Pakistan's well-known TM Hotels chain and it is a perfect stay for families as you are guaranteed quality and comfort. The hotel has grand banquet halls and two great eateries. Rezidor will take care of all your needs from breakfast to dinner while Bakeology, the onsite bakery, will cater to your sweet tooth.
The rooms are unbelievably spacious, some measuring up to 50 square metres. They come with all the trimmings, including a flat-screen TV, good Wi-Fi, air-conditioning, and soundproofing. Breakfast is also included in your room price. The airport is a mere two km away from the hotel and you will have easy access to all the major attractions in the city.
$$ | no star rating | Close to the Airport | Good Views | Restaurant
This is the closest hotel to the airport and is also owned by the TM Hotels group. Rooms have views of landmarks and the beautiful garden in front of the building. It might be the closest stop to the airport but it is not a "one night only" kind of stay. You can comfortably enjoy this hotel for a few days while you explore the city.
The rooms are big with great beds and lots of seating. The on-site restaurant serves continental breakfasts and various local dishes in a stylish setting. You will have good Wi-Fi connections and each room has a TV and coffee and tea making facilities.
Guests especially rave about how cooperative the staff members are and the excellent cleanliness of the property.
The Best of the Rest
This hotel is one of the least central in the city, but still only about 5.5km outside of the center. They offer an airport shuttle so the distance should not be an issue. It is a midrange stay for people who enjoy a more personal experience than at a large clinical hotel. Some rooms fit up to four people comfortably but all rooms are large and offer plenty of seating and amenities.
The inner courtyard is also a great spot to sit and unwind and room prices include a great buffet breakfast. The hotel has a beautiful grand entrance and also has a small conference facility.
This is the oldest hotel in the city and dates back to the 1940s. But don't worry, they have undergone various facelifts over this time and everything is as modern and pristine as you can hope for.
When entering the building you will quickly see where its name comes from. The central courtyard is overrun by delicate greenery draping from the floors above. This hotel is a breath of fresh air in the middle of the bustling city.
More than 60 rooms are up for grabs for singles, couples, and families.
This three-star guesthouse is perfect if you are looking for a quiet and laid-back stay. It is located four km from the city center and you can enjoy their airport shuttle service. There is a lovely terrace where you can enjoy a continental breakfast in the morning and there are plenty of green areas around the hotel.
Despite its smaller size, you can still look forward to amenities like a fitness center and BBQ facilities. Rooms also have extras like a minibar and TV and Wi-Fi is available across the property. The service is impeccable and the rooms are very clean.
This is one of the most versatile hotels in the city with no less than five room configurations and rooms start from as little as $20 per night. They pride themselves in offering excellent service at a fraction of what you might expect to pay.
The hotel has a 24-hour front desk and laundry facilities on the premises. The restaurant also serves delicious food all day and you can make the most of it through the 24-hour room service. It is a large and newly renovated hotel so expect state-of-the-art interior and decor.
Wrapping Up: Best Hotels in Peshawar
The city might be home to almost two million people but hotels are limited to only a few close to the center of town. Make sure to choose a place that you can book through a reputable booking channel as many hotels request you contact them directly.
The TM Hotel group has many hotels in the city and there is something for every budget in their fleet. Their hotels are also very spacious and the staff takes great care to pay attention to details and ensure optimal hospitality.
Even budget-minded travelers will find appropriate accommodation amongst some of the bigger hotels as they aim to cater to all sorts of travelers.
Get in touch if you have been to any other hotels that you think I should know about!