Guide To Driving in Pakistan • World's Most Dangerous Roads?
Driving in Pakistan is an experience unlike any other – and often it is an exercise in the art of zen and motorcycle patience to get from A to B. The Pakistani roads are full of adventures all their own; from vibrant, chaotic cities to the majestic, jagged-as-broken-glass peaks in the north – for both foreign tourists and Pakistanis alike – there's always something new to discover on Pakistan's roads!
Finding the right way to experience the epic journey of your choosing can be a challenge, though, so I've created this comprehensive guide to help you drive across the world's most stunning country in the best way possible.
Once you figure things out, a road trip in Pakistan gives you a thrilling, unforgettable experience that offers a unique way to discover the country is truly unique and pure fun. I have never enjoyed driving anywhere as much as I have in Pakistan, and I still can't get enough. A proper road trip here, in my opinion, is among the best experiences there are to be had in the world!
This epic guide to driving in Pakistan breaks down everything you need to know about renting and buying cars and motorcycles, driving in Pakistan as both a Pakistani and foreign traveler, the Karakoram Highway, road conditions, what it's like to drive as a woman in Pakistan, and a whole lotta other cool stuff that will prepare you for hitting the road yourself in the land of the Karakoram.
Driving in Pakistan as a Foreigner
The best way to get around in Pakistan is to find your own transportation, so sooner or later you'll have to get your hands on a car or motorbike. And don't worry, it's easy – well, as easy as this sort of thing can be in a place like Pakistan. People are buying and selling (or renting) both motorbikes and cars of all stripes every day. It's especially easy to find what you need either on pakwheels.com or by asking a Pakistani friend to help you out.
As far as needing a driver's license to rent or buy in Pakistan is concerned, this isn't something you should worry about. A driver's license is technically required in Pakistan but no one checks, so it's very easy to get around without one!
I've ridden motorbikes thousands of kilometers all over Pakistan and haven't been asked for a license once so this isn't an issue you need to concern yourself with
You will need your passport and a copy of your visa, though, so have those prepared!
Driving the Karakoram Highway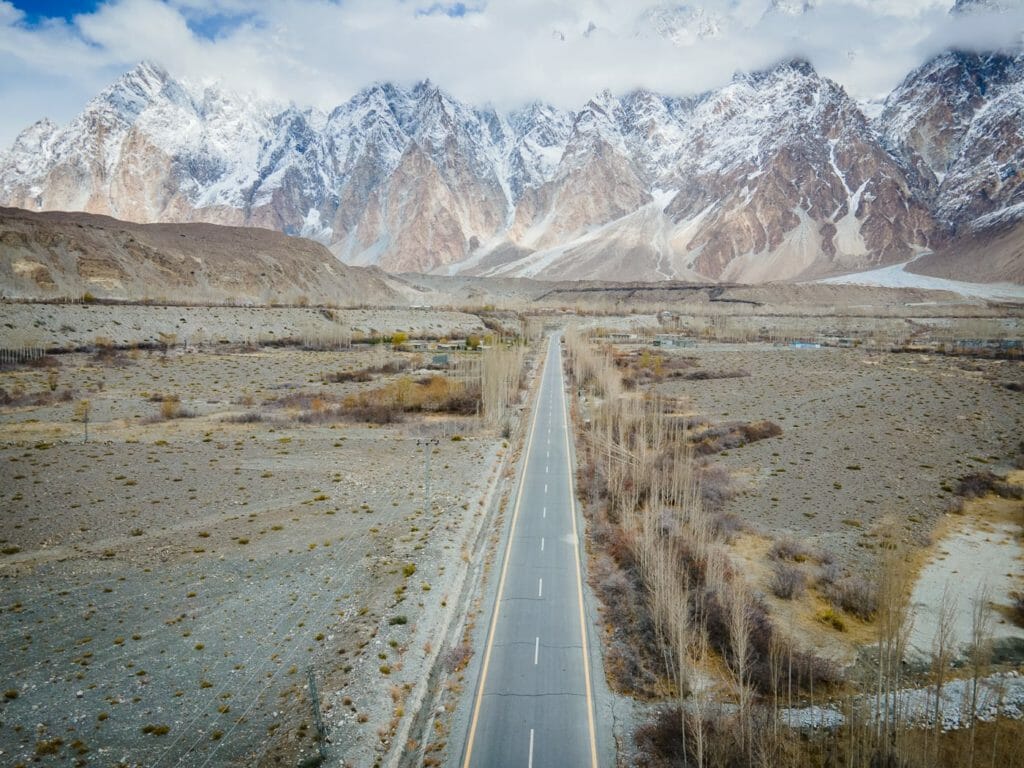 Probably the most difficult thing about driving in Pakistan as a foreigner is adjusting to the driving style. Especially in cities, the roads can be pretty chaotic and at times it feels like you're on the Fury Road.
So it's very important to take your time adjusting to how Pakistani traffic operates before letting loose on the road, whether you're going by car or bike. Once you're out of the cities it gets much better, even if the road conditions can occasionally leave something to be desired. But more on that later 😉
Police Checkpoints and the Karakoram Highway
As you head north on the Karakoram Highway, you'll have to deal with passing through multiple police checkpoints.
Is this something you should be worried about?
Not at all.
Whenever you pass through a checkpoint, it's a quick and easy process. As a foreigner, all you need to show is your passport and a hard copy of your visa to the officers, so make sure you print multiple copies of your visa in advance. As long as you take care of that, moving through checkpoints is painless.
As a Pakistani, it's an even faster, easier process. Showing your Pakistani National ID Card will get you through in less than a minute (unless there's traffic).
The officers will also make note of your vehicle and its plate numbers, so confirm that your vehicle is registered before you set off on your journey.
Checkpoints for Foreign Groups
Checkpoints that you have to stop at for a document check are set up at various points throughout the country and along the Karakoram Highway. You'll deal with a handful before reaching Gilgit, the main hub of Northern Pakistan.
That being said, the rules are different if you're with a foreign group: you'll be stopped more often and your papers will be examined each time, particularly if you follow the Karakoram Highway through Besham and Dasu instead of going via Naran and Babusar Top.
Once in Gilgit, there are no more checkpoints all the way to the Chinese border at Khunjerab Pass, so enjoy the ride, it's fucking awesome.
My reaction to the scenery of Northern Pakistan's section of the Karakoram Highway. Every time.
Can Women Drive in Pakistan?
Yes! While it is far more common for men to drive, women can drive in Pakistan without a problem.
Me being a white dude, this is a question that I felt would be better answered by asking both Pakistani and foreign women what this experience is like, so I've taken a back seat and included the information I've gathered from them here.
As a foreign woman, you'll have no problems renting or buying a motorbike or car, or using them throughout the country. Whether driving solo or with a group, you shouldn't encounter any issues.
However, it's not as common to see Pakistani women driving unless they belong to a wealthier family. In Pakistan's cities, women drive at a much more frequent rate than they do in the northern areas. While not nearly as socially conservative as, say, Saudi Arabia, it's still fairly rare to see women driving themselves around in Pakistan.
Although there are no legal obstacles to women driving in Pakistan, it's still a relatively conservative country and a female driver isn't a common sight. You might get some weird looks as a woman driving around, but aside from that there's nothing to worry about when it comes to driving a car or motorcycle.
Is Driving in Pakistan Safe?
Driving in Pakistan requires you to constantly pay attention and keep alert, but it is undeniably fun as hell once you get used to it.
Especially in cities like Rawalpindi, driving can be an absolutely chaotic experience that's exhausting because it requires you to be fully aware of all of your surroundings at all times – and there's literally not a second of rest to be had in places like this – but once you leave the cities, in my opinion, the experience is glorious.
On less crowded roads, you can coast while enjoying the majestic scenery the country has to offer. If the road conditions are decent, it's very easy to safely soak in the views and drive at the same time. And the roadside views in Pakistan are truly one of a kind. As far as I'm concerned, there's no other place that even comes close to matching the spectacular backdrops of Pakistan's roads.
Seriously, the views can't be beat
It's important to know that Pakistani drivers have one logic that guides how they drive: Pass, pass, pass. Regardless of the road conditions, regardless of how dangerous it might be in that particular moment, Pakistani drivers WILL try to pass by you, so it's good to get the fuck out of the way to protect both them and yourself from a harmful accident, especially on those mountain roads!
Dangers of Driving in Pakistan
As fun as driving in Pakistan can be, it's also ripe with danger – especially for motorbikes. Poor road conditions, bad drivers, and more can cause a whole host of problems ranging from small and annoying to large and critically dangerous.
Remember, as a biker, you are always incredibly vulnerable, so it is vitally important to keep alert at all times and give yourself plenty of room – and time – to correct any mistakes you make and adjust to any conditions that may suddenly come your way.
If you are an inexperienced biker or driver, take EXTRA care when driving Pakistan's roads. Go slow, take your time, and don't take any chances. I can't say this enough: going a little faster to maybe save a little bit of time just isn't worth the risk of a devastating accident.
It is not uncommon to see trucks, cars, and motorbikes crumpled on the side of the road after an accident. Sometimes these accidents can be brutal and even deadly, and the aftermath is not a pretty picture.
Take every measure you possibly can to keep safe and you'll manage to enjoy the experience while staying far from danger. If you're driving or riding in an area that you feel may be too much for you to handle, there's nothing wrong with turning back.
Car and Motorcycle Rentals in Pakistan
So you've decided to explore Pakistan in the most awesome way possible: with an independent vehicle of some sort.
Where to begin? It is worth noting that with the exception of a few known-to-the-backpacker-community companies – most local/small-time rental agencies might try to rip you off. The first price they offer you for a car/motorbike rental should not be the price at the end of negotiations. Patiently haggle like there is no tomorrow.
Motorcycle Rentals
Renting a motorcycle in Pakistan can be fast and easy, and as you've gathered, is by far my favorite way to get around in the country. There are lots of options to choose from but it's important to make sure you get a good deal since many places will try to get the better of you by overcharging.
You can expect to pay a minimum of 2000-2500 PKR per day for shorter-term rentals, and you can rent from any major hub – Karachi, Lahore, Islamabad, Gilgit, Skardu, etc. If you want a long-term rental, it's possible to negotiate to reduce the price per day and many places will give you deals where the price after 30 days or so drops to 1500 PKR daily.
My Experience Renting a Motorcycle in Pakistan
Your experience renting a motorcycle in Pakistan is going to vary greatly depending on who you rent from, but for my part, my own experience renting a motorcycle was awesome.
I rented my motorcycle from Karakoram Bikers based in Gilgit city, and I honestly have only positive things to say about the experience. These guys will give you fair rates and not only ensure that the bike you rent is in top-notch shape, but they will also make sure that you are prepared for your journey before you set out as well.
Karakoram Bikers will give you capable, dependable bikes in good condition, good information on Gilgit-Baltistan and its roads, and good prices. I can't recommend them enough if you're looking to rent a motorcycle in Gilgit.
Some companies will provide similarly high-quality information and motorcycles and some won't so do your research beforehand to ensure you get everything you need from a rental company and more.
Car Rentals in Pakistan
I've rented a car on two occasions in Pakistan. It was awesome having the freedom AND space that comes with having a car vs a motorbike.
I did find that it is not so simple nor easy to rent a car in Pakistan as a foreigner. Get this: it is more expensive to rent a car without a driver than it is to rent a car with a driver. Car rental companies don't trust the average Pakistani driver – so they prefer to hire a pro to drive you around instead of sending you out into the world with their wheels.
Another negative point is that car insurance is not really a thing in Pakistan and certainly not from the rental companies I interacted with. From the moment you drive off the rental lot, you are responsible for the car – even for engine failure. This was a pretty stressful aspect of renting a car in Pakistan – but I kinda just said f*** it and hoped for the best. In the end, all was well and the cars were returned in one piece.
I rented the car from Falak Sher of Al-Sadiq Rent a Car in G9 Islamabad – Whatsapp #: +92 0323 9504960
The cost was 5000 rs/day with no driver. The cost with a driver is around 3000/day.
What Kind of Bike Should you Get?
A myriad of answers is going to arise from this question depending on who you ask, and the best answer depends on what you want to use the bike for. There's a variety of bike types available in Pakistan, the most common ones being a Honda 70 cc, Honda 125 cc, and a Suzuki 150 cc (for rentals). If you're going to primarily ride around in cities, it doesn't matter as much what kind of bike you choose to rent.
However, if you want to ride in the northern areas (and you absolutely should!), particularly Hunza, I highly recommend going with the Honda 125 cc. The reason for that is that it's a very common bike in Gilgit-Baltistan, so it's very easy to find spare parts and repair shops should the need arise. It's also a lighter bike so off-roading will be much easier than it would with a heavier motorcycle.
If you want to rent from Gilgit City, the guys at Karakoram Bikers will give you a great deal and a solid, dependable ride to explore Gilgit-Baltistan with.
Most Dangerous Roads in Pakistan
Pakistan has some truly infamous roads that have become something of a legend among the people who travel here.
Here are a few of my favorites:
Top 5 Most Dangerous Roads in Pakistan
Road Conditions in Pakistan
Road conditions in Pakistan can range anywhere from a rocky, bumpy nightmare that will destroy your back to glossy, smooth tarmac that is completely euphoric to drive on.
At their best, the roads are unmatched
Naturally, the condition of the road is going to depend on where you are. In a modern, relatively new city like Islamabad, the roads are almost always in good shape and easy to drive on, but in an older, more crowded city like Rawalpindi, be prepared to be achy and covered in dust after just a few minutes of driving.
The majority of rural areas still have yet to develop roads that are entirely paved, so getting around in more remote places can be a rough experience, even with the spectacular views.
However, the majority of the Karakoram Highway (beyond Chilas the road is good – the road through Besham and Dasu is a nightmarish, horrific state) is now paved, and even in the remote northern areas, Chinese investment in the region north of Raikot Bridge – the turning point to the Fairy Meadows and Nanga Parbat – has resulted in the creation of a magnificent paved highway all the way to the Chinese border, and now there is nowhere else on the planet where you can enjoy paved roads while driving right next to 7000-meter peaks.
Where road conditions in Pakistan are concerned, driving definitely has its lows but those are far outweighed by the epic highs! Just take your time adjusting to the roads in less-than-ideal circumstances and you'll have no problem at all navigating your way through Pakistan. And on top of that, the roads at their best will give you an experience like no other.
Safety Tips for Riding Motorcycles in Pakistan
Riding motorcycles in Pakistan is insanely fun, but it's good to keep a few things in mind before hitting the road so you can keep risks low and minimize the chance of an accident. These tips will help you get started and enjoy riding in the safest way possible:
Tip #1: Take it slow
Going as fast as possible on a motorcycle can be irresistibly tempting, but taking it slow is much safer and gives you a bigger margin for error should you see a rock or pothole in the road at the last second. The same rings true should some maniac driver come careening around the corner from the opposite direction, you'll have more than enough time to pull aside and make room for the both of you. Plenty of other things can happen too, so keeping a lower speed helps you adjust to any situation that might arise on the road.
Tip #2: Don't have a big ego
Remember, you're on a small motorcycle and most of the cars on the road could turn you into roadkill if they wanted. If a car is behind you and trying to pass, pull to the side of the road so they can drive by. Having the right attitude is everything.
Tip #3: Make sure your bike is in good shape
Each time before you set out, check your bike or have a more knowledgeable friend do it for you. Have a look at the oil, bike chain, brakes, etc. to make sure everything is in working order before you leave, because you do not want to encounter an issue with your bike while riding in the middle of nowhere.
Tip #4: Don't pass on blind corners
We've all been there: you're driving on a narrow road, and you're stuck behind a car that's driving painfully slow. The temptation to pass is too strong to resist, and that's all well and good unless you're heading up to a corner that you can't see around! If this is the case, it's best to wait and suffer the glacial pace of driving until you've got a nice, straight road with lots of visibility before you pass.
Saving a few seconds just isn't worth the risk of attempting to pass around a blind corner and getting the surprise of your life when a car coming from the opposite direction is the first thing to greet you as you round the corner. This tip is important because passing on blind corners is the rule, rather than the exception, in Pakistan.
These safety tips are far from comprehensive, but following them will give you a solid foundation for keeping safe as you begin your motorcycle journey across Pakistan. The more you ride, the more you'll learn. Just follow the basics and you'll learn everything else you need to know about riding along the way!
Tip #5: Wear A Helmet!
This one requires no explanation. Don't be stupid please and wear a helmet EACH time you get on the bike. Remember – you will be so disappointed with yourself if you die on a Pakistani road for the sole reason that you were not wearing a helmet.
Final Thoughts: A Guide to Driving in Pakistan
So, should you drive in Pakistan?
Yes, you absolutely should!
Learning to navigate the roads in Pakistan can be a struggle, but when you figure it out, it is truly one of the best experiences you can possibly have. The drivers are often aggressive and impatient, but the roads and scenery give a cathartic experience that is simply unequaled anywhere else in the world.
Above all else, remember to be safe! Follow our safety tips, learn to drive Pakistan's roads the right way (i.e. slowly) and your journey will be epic and unforgettable. Pakistan is my favorite country to drive in, and it can be yours too.
A road trip in Pakistan is full of adventure, jaw-dropping views, and incredibly hospitable people along the way. Having your own set of wheels is by far the best way to experience Pakistan, and now you have everything you need to get started. Drive safe amigos.
Did you find this guide to driving in Pakistan helpful? Let me know in the comments below!
Be sure to check out as well...