Grayl UltraPress Review: Best Ultralight Filter & Purifier Bottle Water Bottle?
No matter what adventure I am planning on getting after, there is one piece of gear that is always in my backpack: a Grayl Purifier Bottle. For years, I have been using the Grayl Geopress which is the largest purifier bottle in the Grayl line.
Recently, I got my hands on the brand new version of their ultralight purifier bottle: the Grayl UltraPress. I just spent the whole summer season in Pakistan doing two expeditions in the high mountains and had ample opportunity to beat the hell out of my new UltraPress.
This Grayl UltraPress review will cover EVERYTHING you need to know about the latest Grayl bottle including a general performance breakdown, key specs, best use, and how the UltraPress stacks up against its predecessors.
Key Specs: Grayl UltraPress
Key Features and Performance Breakdown: Grayl UltraPress Review
As to not confuse you right off the bat, let's be clear about something. Grayl makes three different water purifier bottles: Grayl GeoPress • Grayl Ultralight Compact • Grayl UltraPress.
This article is a Grayl UltraPress Review; Grayl's newest purifier bottle.
The truth is that the UltraPress was inspired by the GeoPress and not the Ultralight. Grayl seems to have taken all the best features of the GeoPress and designed and engineered them into the UltraPress. But their have been developments…

Worth noting is also the fact that the Grayl UltraPress is both a filter and purifier bottle. It is that technology is what sets it apart from other filter-style water bottles. Read on to find out the difference between a filter and a purifier bottle later in the article.
How the UltraPress Works
Using a Grayl UltraPress is super straight forward and its simplicity is what makes it so easy and practical to use day after day. You simply fill the "outer" reservoir with the dirty water, insert the cartridge attached to the clean "inner" and use your body weight to press the bottle down. Within a few seconds, you have 100% safe drinking water. Boom.
After using the Ultralight Compact Bottle for many years – there are a few key differences worth noting between the Ultralight and the UltraPress. First off: the UltraPress has a much smoother and faster press.
I found that with the Ultralight, after a while the press became very difficult to press, especially with the sort of awkward design of the lid. Grayl made an improvement here in a big way. The UltraPress cap is wider so your palms can use a flat pad to press down without the top lid digging into your hand.
Grayl also added a new, larger carry handle – an improvement on the old design as well.
Of course, with normal use, the UltraPress "press time" will be longer as the filter gets dirty and clogged with debris. Generally speaking though, the UltraPress pressing-action is smoother and faster than my previous experiences with the Ultralight model and more closely reflects the user experience of the GeoPress.
UltraPress vs GeoPress Performance?
The FlipCarry™ handle found on the UltraPress adds a shit ton of tech to the cap. Why? The FlipCarry™ handled provides an enlarged pressing surface when flat; rotates 90° for effortless separation and easy carrying. May not sound like a big deal but it is.
The press is smoother and the bottle is better designed in just about every way. Dope. That is probably why I have heard that Grayl is discontinuing production of the UltraLight Compact. The future is the Ultrapress if you are looking for something smaller than the GeoPress bottle.
Capacity
The Grayl UltraPress can hold 16.9 oz – a tad more than the equivalent of a US pint of beer. What you save in terms of weight by the bottle being compact, the amount of water it is possible to carry may simply not be enough for your needs.
That said, on my latest climbing expedition in Pakistan (Spantik Peak) – I used the UltraPress to save weight when I was climbing and the system I employed worked great. You'll need another bottle for this though. To ensure I always had enough water whilst trekking and climbing, I kept a separate 30 fl. oz. Nalgene on me as well.
I still purified all of my water, I would just do a few rounds of pressing – fill up both bottles – and move on. For people doing long-distance trails or wanting to travel light – going with the UltraPress is a solid choice as you always have the option to carry a secondary bottle if you need more capacity.
For my time in cities – I find the UltraPress to be just enough for an afternoon out in town.
If carrying capacity is your priority over saving weight – go with the Grayl GeoPress – Grayl's largest purifier bottle.
Bottle Size
Related to its liquid capacity – the physical bottle size is conducive to ultralight packing styles and smaller day packs.
I hike and travel with a 40 liter Atlas Athlete backpack which has two side pockets for water bottles. While my larger GeoPress bottle can fit – the UltraPress bottle fits easily and I never have to worry about it falling out. The narrow cylindrical shape allows for the bottle to fit into most backpack water bottle pockets – even those that are too small to fit bulky Nalgene bottles.
How the Grayl Filter Cartridge Works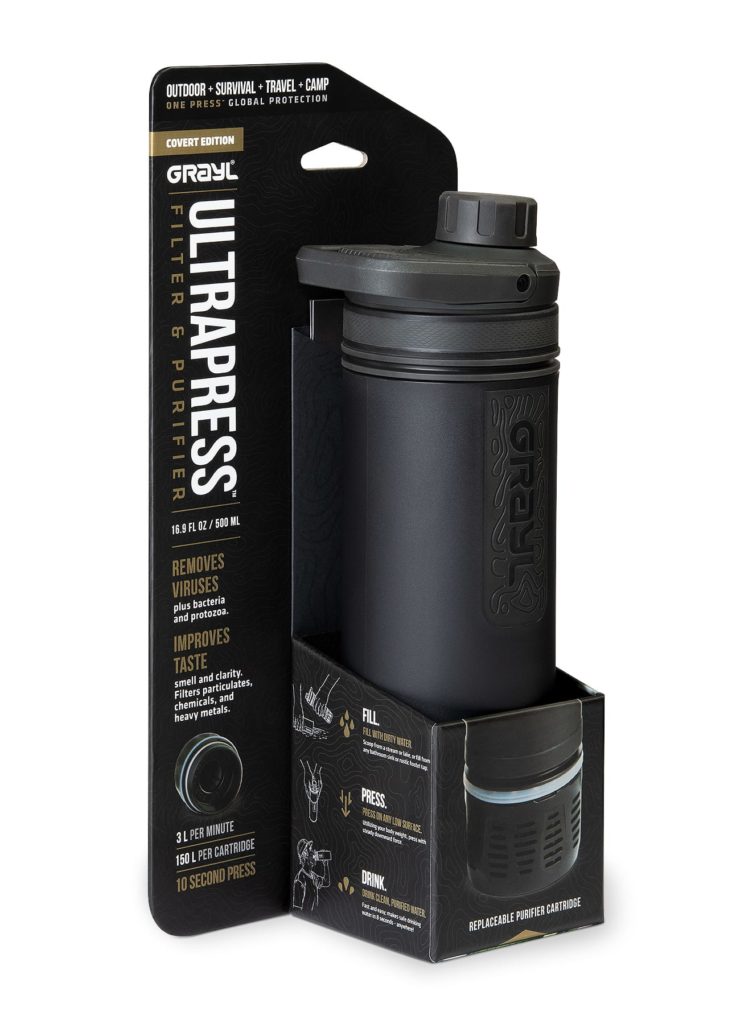 So here are the important details you need to know. What sets Grayl bottles apart from other filter options like Lifestraw or UV light filters is the technology they use in their cartridges.
Grayl cartridges don't just remove bacteria and the like – they ALL remove waterborne pathogens (99.99% of viruses, 99.9999% of bacteria, 99.9% of protozoan cysts), including Rotavirus, Hepatitis A, Norovirus, Giardiasis, Cryptosporidium, E. Coli, Cholera, Salmonella, Dysentery.
If all of those body-smashing little pathogens were not enough, the cartridge also removes things like microplastics, particulates (i.e. silt, grit, etc.); plus the activated carbon effectively adsorbs chemicals, pesticides, heavy metals, flavors, and odors. No other water filters I have used over the years are capable of doing that.
When the army of invisible toxins and bacterias try to ruin your hike or holiday from a simple drink of water – the UltraPress provides the best tool to keep your water safe by keeping these microbial devils at bay.
UltraPress Cartridge Maintenance
Like any piece of gear, you'll need to maintain your cartridge as much as possible. I know from experience that it is not always possible to do proper maintenance when you are using your UltraPress every day. That said, during and in between adventures, there are a few things you do to maximize the life span of the cartridge.
Here are a few things to help with maintenance that I have learned over the years:
Note that a replacement cartridge costs about $25-30 USD depending on the model of bottle you have.
My Experience with the UltraPress at High Altitude in Pakistan
When I am climbing or trekking – I am usually carrying so much camera gear, that I need to be smart about the other stuff I pack. In the case of my recent expedition – every ounce was counted as we were climbing a 7000-meter mountain and wanted to carry not a gram more than necessary.
I actually had a GeoPress and an UltraPress with me at base camp and opted to go with the lighter UltraPress option. Overall I was very happy with this choice. Because the UltraPress is smaller and more compact it did not get in the way of the other kit (like an ice ax and sleeping pad) I needed to strap to the outside of my pack.
Because of the high altitude (20,000 feet and above), there were two mornings during our summit push that I woke up to a frozen bottle. As mentioned above, it is not ideal to let your cartridge go through multiple freeze-thaw cycles. To be fair, the night I had the UltraPress in my sleeping bag, it did not freeze. The other nights I was too tired from the climb to care and to be honest, I just forgot to chuck the bottle in my sleeping bag. Thus it froze solid.
If you too are camping in a cold environment, I suggest wrapping the bottle burrito-style in a down jacket or if it is truly cold, put the bottle in your sleeping bag with you – it works to prevent freeze!
Hard fact: Because of the small cliff-edge-like nature of high-altitude campsites, there often are not a lot of places to go to the toilet. With that said, I found that it was 100% necessary to purify the water I was melting from snow since people were relieving themselves not too far from our tents.
Needless to say, neither myself nor my climbing partner got ill from water contaminated with human waste. We ran everything through the UltraPress! This was a tough test but the UltraPress passed with flying colors and we sent the summit.
Cons of the UltraPress
While I am stoked on 99% of the performance of the UltraPress – no Grayl UltraPress review would be complete without giving you some honest feedback on what I do not like about it.
Here are some of the main cons I have found:
For me, almost no product in the outdoor industry is 100% perfect, and even with a large selection of water filter bottles to choose from – despite the cons mentioned above, the UltraPress is still my go-to for lightweight missions.
Wrap Up: Grayl UltraPress Review
Before I started Off The Atlas, I was a professional product tester for one of the world's largest travel blogs. I tested a lot of different stuff over the years. Now there are the products I have tested and then there are the ones I personally use on a daily basis whilst traveling or hiking. The Grayl UltraPress is one of them.
Having the ability to purify water literally anywhere on earth is a serious game-changer. There is a reason why my tour company also requires all of our clients to bring a Grayl bottle on our tours; they work – it's that simple.
So after 4 years of using a Grayl purifier bottle in more than 20 countries including Pakistan – here is my verdict: don't set off on an international adventure without one. If you hike, climb, or just want to be prepared for the next natural disaster (unfortunately these are happening more and more!) – pick yourself up a Grayl GeoPress and never worry about the problem of sorting out a healthy, clean water source ever again.
Do you have experience using the Grayl UltraPress or a different Grayl bottle? Let me know what you think in the comments below!