Atlas Athlete Pack Review: The Best Camera Bag for Adventure Photographers?
As a photographer constantly out on hiking adventures and long-term travels – I tend to have a fair bit of camera equipment with me. I've gone through various carry-combinations over the years: camera cubes, lens compartments, drone-specific bags, large backpacking bags with a camera bag stuffed inside…and I was never fully stoked on the result.
The first day I had my Atlas Athlete pack out for a test run, I was fairly certain it was "the one". After nearly a year of weekly use – any doubt I had in the past about its performance is gone never to return. But what makes the Athlete pack so special?
This Atlas Athlete pack review breaks it all down. Below, I cover key features and specs, go over the camera compartment, the fit, price, and everything else you NEED to know before you consider investing (and it is an investment!) in this near-perfect camera backpack.
Let's dive right into it…

Note: If by the end of this article, you are convinced that the Atlas Athlete Pack is the right unit for you, be sure to use my exclusive discount code at checkout to save $$$ on your purchase!
CODE: OFFTHEATLAS88
Key Features and Performance Breakdown
If you are into small details on the micro-level then the Atlas Athlete pack is gonna make your brain feel good. It took me about a month to discover all of the small pockets, zips, configuration possibilities, and the like… and there are LOTS of possibilities with this bag.
The point being, the Athlete pack is loaded with all the useful features an adventure photographer needs and none of the BS that you don't.
Internal Storage (Camera Compartment)
The most enticing aspect of this backpack is its one-of-a-kind camera storage compartment (termed "origami camera core" by Atlas Packs). As mentioned I have tried a bunch of different setups – and no previous model I have used in the past gave me this level of quick accessibility while protecting my gear from the perils of hiking life.
Based on a system of customizable padded inserts that you can arrange in a seemingly endless number of ways to suit your camera system setup. It takes some playing around to find the setup that works for you, but once you get it right the birds start to sing and rainbows suddenly appear in the sky.
For reference here is my current setup that I tend to have on me most of the time:
– Fujifilm X-T3 Mirrorless Camera
– 18-55 mm lens
– 35 mm prime lens
– 10 – 24 mm lens
– 55 – 200 mm lens
– 5 camera batteries
– DJI Mavic Air2s + ND filter box
– 5 drone batteries (I tend to carry only 3, but the pack can hold 5)
– Small cleaning kit
The Athlete pack came with way more padded dividers than I could ever need – I think I use only half of what is included when you purchase the pack.
Speed of Access
The camera compartment lies directly under the padded back panel. For any photographer being able to access your cameras and lenses quickly can be the key to "getting the shot". I timed myself on a few occasions: to get my camera out, change a lens, and have the unit ready to shoot takes me less than 30 seconds.
If the camera is ready to go already, you can have your camera in hand ready to shoot in less than 5 seconds. That's dope. This speed capability is a big change from pulling camera cubes from the bowels of your backpack.
The camera compartment is the best feature of this backpack hands down. If you only have one camera and don't carry any lenses or have a drone – you probably don't need a pack like this. But if you do, it is a total game-changer.
I also purchased a Capture Clip from Peak Designs which allows you to fix the camera to the shoulder strap in place while hiking – a great addition to this pack.
Interior Storage Capacity
The Athlete Pack is at its smallest 20 liters and capable of expanding to 40 liters (I would argue 45). For a pack this size, it is amazing what you can fit inside including all the camera gear. I recently used the Athlete Pack on a mountaineering expedition to Spantik Peak (7000 meters) in Pakistan and this was the main bag I used for the climb.
The main feature of the origami camera core is that it can be popped in or out depending on your camera storage needs. I have mine popped in all the time because I fill up the entire camera compartment with my setup. But if you wanted to carry more personal gear and less camera stuff, the feature is useful for providing more internal space inside the pain pack belly.
Inside the pack, you will also find a padded laptop compartment.
Additional straps and pockets on the exterior of the pack provide for additional places to strap bulky items that won't fit inside IE a sleeping pad, helmet, trekking poles, ice ax, etc.
For day hikes you can carry everything you need even if you are packing 5 layers + food. I use my Athlete pack as my carry-on bag for flying internationally (which I do often).
On any given (non-hiking) trip I carry inside the pack:
– 13″ Macbook Pro in a padded case
– Small pouch containing 2 hard drives and other computer equipment
– phone and computer charges
– large power bank
– folder for documents
– book and journal
– base layer
– Patagonia down jacket
– small change of clothes (in case my baggage is lost in transit!)
– snacks
– other random bits
Exterior Storage Capacity
Finding extra places to store stuff on the Athlete Pack is never an issue really. The top lid compartment is much larger than it appears and can fit a ton of stuff you want quick access to. There is a small storage pocket above the main lid as well for small bits like keys, headphones, a chocolate bar, etc. There is a third pocket underneath the top lid as well!
The backside of the pack features a medium-sized zippered pocket and expandable open pouch – which is where one might store a rain jacket, Tevas, or keep dirty socks on a multi-day trip.
Being able to strap your tripod or trekking poles to the side is super handy as well – though sometimes I feel like there are a ton of straps on the outside and one needs to take care to keep them buckled otherwise you have straps hanging off everywhere.
One thing I look for when buying a new pack is how the water bottle pockets look on the outside; I mean how big are they? There is nothing worse than having a pack with pockets too small for your bottle! Well, the Athlete pack has TWO large water bottle pockets capable of holding a Nalgene and a large Grayl Bottle.
Sizing and Fit
The Athlete pack frame comes in 3 sizes:
I went with the medium/large (I am 5′ 10″) and the size feels pretty right for me. The sternum strap, shoulder strap, and hip belt are all adjustable too of course so you can really dial in the fit – and this will probably depend on what you are carrying and how heavy the pack is.
One con about the fit I have to report is when you are wearing a climbing harness the hip belt tends to ride up and not stay in place around the hips, no matter how tight you cinch the straps. This is probably a very individual experience but it was pretty annoying as it was causing my pants and harness to slip down a bit when I would take a step. I should note that my friend with me with the same pack did not have this issue.
Padding and Comfort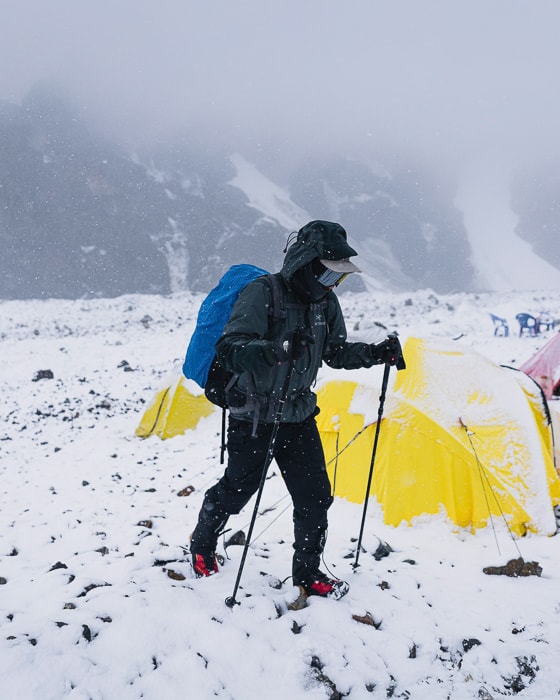 So I do a lot of hiking. I also lead expeditions in Pakistan. Combine that with the fact that I carry all this camera gear and I have a pretty specific need for a comfortable hiking bag that is capable of holding my kit while also not breaking my body.
My previous camera bag evolution went from a large Osprey Aether 70 with a camera cube to the Wandrd PRVKE 31 to the Wandrd Fernweh to now the Atlas Athlete. The Athlete has all of the padding and comfort (or most of it anyway) of a technical hiking pack like an Osprey pack PLUS the camera storage which was a true revolution for me to find in a pack.
Even with the camera compartment loaded the back panel is comfy and I never feel any of the gear inside digging into my back.
The Hipbelt Options
When you are purchasing the pack on the Atlas website, you can choose what sort of belt you want.
Important: Choose the Adventure or Athlete hip belt – otherwise you will have literally no padding on your hips. I don't recommend using the bag without a hipbelt either. The Adventure belt is more comfortable as it provides two layers of foam padding and a wider webbing and buckle – it's also bigger and bulkier.
The Athlete belt has a single foam layer and is more minimalist – this is the one I use and I find it to be enough even for long-distance stuff. The Travel belt is just a fabric wrap without any padding and is pretty useless if you are a hiker.
On each side of the hip belt, there are large stashable pockets – they basically look like chalk bags rock climbers use. When I first got the pack I was pretty amazed that the pockets themselves had no zips or closures! I was reluctant to use the pockets and thought the lack of closures was a pretty big design flaw as zippable pockets are so useful.
So I modified the pockets with snap magnet closures and since then, nothing has fallen out. Take note @ Atlas Packs! One needs to be able to zip or button the hip belt pockets – otherwise, their usefulness is pretty limited.
How Secure is the Atlas Athlete Pack?
By now, I have knocked my Athlete pack against a few trees, rocks, and walls. It has fallen off a chair a few times. As far as I can tell my gear inside survived the impacts – some of which are not insignificant. The overall design and solid build structure give me confidence that with backpack serves as a protective shell against minor impacts and falls.
With the camera compartment located along with the back panel, it is impossible for a thief to get in there while you are wearing it. All of the exterior nooks and pockets do make the pack vulnerable to skilled pickpockets so I advise not keeping anything of value on the outside of the pack when you are in crowded places such as public transport, markets, train stations, etc.
The camera compartment is lockable in theory (there are two zippers) if you have your own small lock – but I have never done this or felt it necessary.
Durability and Toughness
I tend to beat the hell out of my backpacks and outdoor gear in general. I am a digital nomad who travels around for a good majority of the year and I am also a guide in the mountains of Pakistan. A year into owning my Athlete pack I have not noticed any major wear and tear. A small hole developed in one of the side water bottle pockets but I can take responsibility for that when I shoved the tip of my trekking pole in there.
Generally speaking, the fabric is tough and has survived a few encounters with sharp blackberry thorns, snags with tree branches, and a whole lot of rough trails. And for the price – which is obviously one of the biggest drawbacks of the Athlete pack – I expect this thing to last many years. So far so good – even though I am aware I use my pack far more than the average person.
Rain Cover and Weather Protection
The Atlas Athlete does indeed come with a rain cover – which is stowed in a small zippered compartment at the base of the pack when not in use. I have now been in multiple snow and rain storms with the Athlete and I can tell you that the rain cover works pretty well. No rain cover keeps everything bone dry, but this one does indeed get the job done sufficiently enough.
Heavy rain always makes me a bit nervous because of all the electronics – but I have never had a major issue. Without the rain cover though – the pack will definitely get soaked. When the bag is fully loaded and things (like a sleeping pad) are strapped on the side, I have found the rain cover to be a tad small to cover the entire pack. If you are fully loaded with gear strapped on the exterior – don't expect the cover to cover up everything 100%.
The important thing is though that the camera compartment has always stayed dry in a storm no matter how much the rain cover is able to cover.
Atlas Athlete Price: Look Away Now!
Price: $465 USD (2023 Athlete Pack)
When I first came across Atlas Packs – I was shocked at the price – full stop.
Never have I had to contemplate such a high price tag for a backpack. I wrestled with the idea for a few weeks, but after seeing my friend's bag in person a few times – I went for it, but I definitely grumbled as I did so.
So the question now is this: is the Atlas Athlete pack worth the money? In my opinion, hell yes it is. The quality of materials used, the intelligent practical design, the comfy fit, the camera storage… all of this comes together to make a near-perfect adventure backpack.
If you are an adventure photographer who hikes/climbs/travels with a bunch of camera gear – there is simply not a better camera-hiking backpack on the market. I don't give my full blessing lightly – so if you got the cash to drop on an Athlete Pack – as soon as you get this thing in the field you will see for yourself what a game changer it is.
There is new version of the Atlas Athlete pack now but as of the time of writing, one needs to reserve one as they are on backorder. The price for the 2022 model is $465 USD. There are a few new color patterns as well – I am a fan of the all black.
Wrap Up: Atlas Athlete Pack Review
By this point, there is nothing more to say. You are either super curious and stoked about the Atlas Athlete Pack or you are disgusted by the price… there is not really any room for other feelings.
Before starting Off The Atlas I was a professional gear tester for a major travel blog and I saw LOTS of backpacks over the years. Sure there are better technical hiking packs out there for huge multi-day expeditions and smaller, cheaper camera backpacks out there if you don't have a lot of camera gear.
The gear that I personally use is super important to me as it has an impact on how I do my job and how my body feels with day after day of outdoor activity. For my needs as a photographer and avid hiker, there is no better option; the Atlas Athlete Pack is the cream of the crop.
If you are packing heaps of camera stuff and are moving around a lot you now know what the best choice is for your next hybrid hiking-camera backpack.
Thanks for taking the time to read this review. If you have something to add related to your experience with the Atlas Athlete pack, leave a comment for posterity below.